Install plugins
Before running the commands shown on this page, you should load the Bitnami stack environment by executing the
installdir/use_APPNAME
script (Linux and MacOS) or by clicking the shortcut in the Start Menu under "Start -> Bitnami APPNAME Stack -> Application console" (Windows). On OS X VMs, the installation directory is
/opt/bitnami
and OS X VM users can click the "Open Terminal" button to run commands. Learn more about the
Bitnami stack environment
and about
OS X VMs
.
You can install any plugin or theme from the WordPress administration panel. Follow these steps:
When using the native installer, it is necessary to install a FTP server and specify your FTP credentials.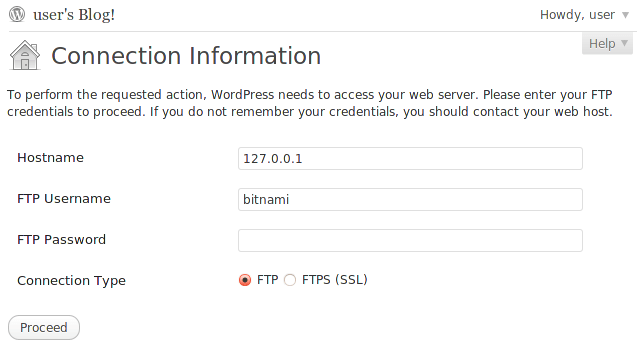 For more information about installing and managing plugins, such as Full API Access, refer to the WordPress documentation. If you run into issues related to server or application permissions, refer to our troubleshooting guide for permission errors.