Modify the interface language
NOTE: We are in the process of modifying the file structure and configuration for many Bitnami stacks. On account of these changes, the file paths stated in this guide may change depending on whether your Bitnami stack uses native Linux system packages (Approach A), or if it is a self-contained installation (Approach B). To identify your Bitnami installation type and what approach to follow, run the command below:

 $ test ! -f "/opt/bitnami/common/bin/openssl" && echo "Approach A: Using system packages." || echo "Approach B: Self-contained installation."


The output of the command indicates which approach (A or B) is used by the installation, and will allow you to identify the paths, configuration and commands to use in this guide. Refer to the FAQ for more information on these changes.
Approach A: Bitnami installations using system packages
Follow the steps below:
Log in to the PrestaShop administration panel using your browser.
Navigate to the "International -> Localization" page and select a localization pack to import for your language.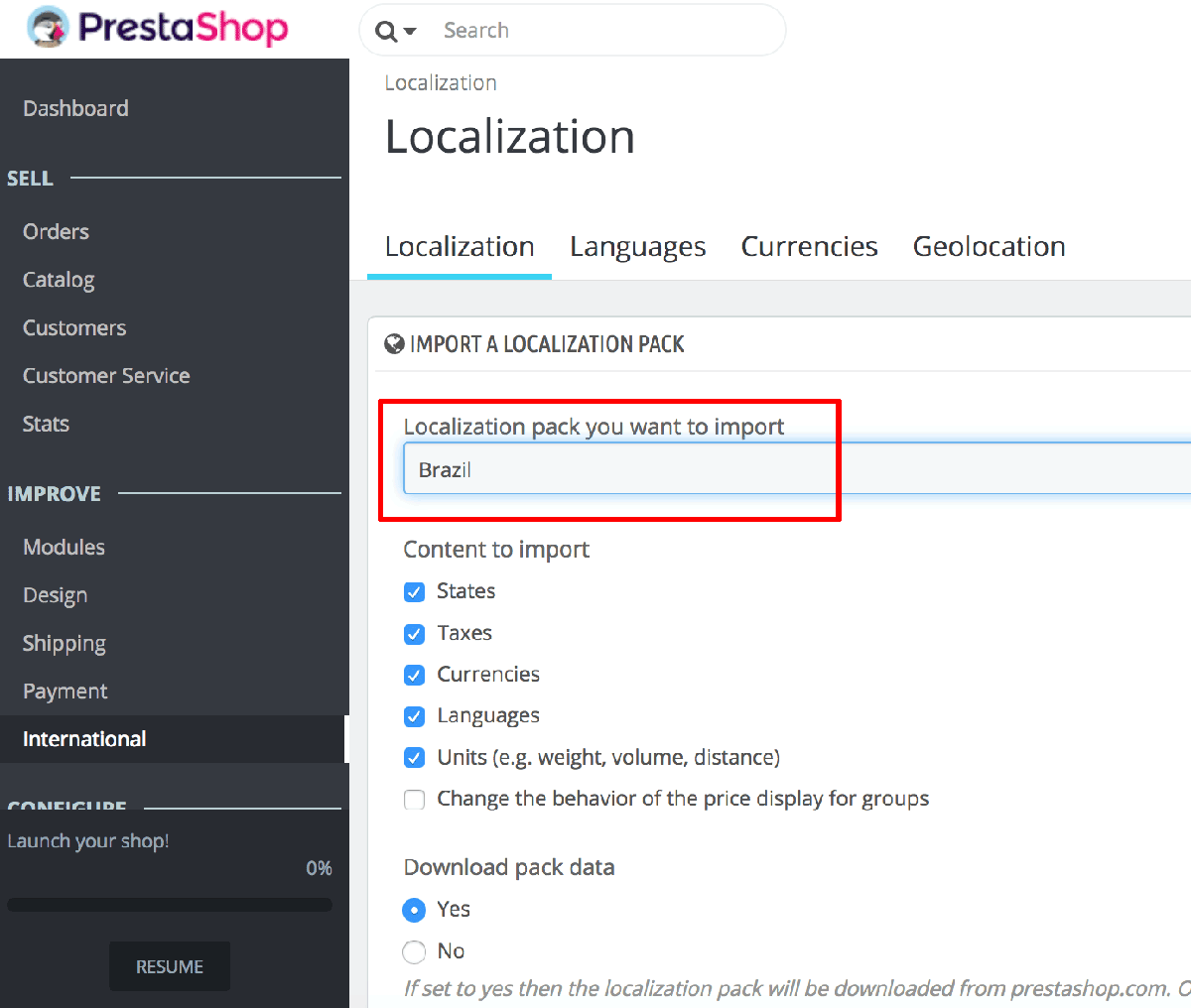 Click "Import" to import the localization pack.

Once imported, navigate to the "International -> Localization" page and select the new language as the default language for your shop.

Alternatively, to add custom translations, navigate to the "International -> Translations" page, select the translation type as "Themes translations", select the newly-installed language and click "Modify" to begin adding new translation strings or modifying existing ones.
Approach B: Self-contained Bitnami installations
Follow the steps below:
Log in to the server console using SSH.

Modify the ownership of the PrestaShop directory:

  $ sudo chown -R daemon:daemon /opt/bitnami/apps/prestashop/htdocs/


Log in to the PrestaShop administration panel using your browser.

Navigate to the "International -> Localization" page and select a localization pack to import for your language.

Click "Import" to import the localization pack.

Once imported, navigate to the "International -> Localization" page and select the new language as the default language for your shop.

Alternatively, to add custom translations, navigate to the "International -> Translations" page, select the translation type as "Themes translations", select the newly-installed language and click "Modify" to begin adding new translation strings or modifying existing ones.

Log in to the server console again using SSH.

Restore the original ownership of the PrestaShop directory:

  $ sudo chown -R bitnami:daemon /opt/bitnami/apps/prestashop/htdocs/
  $ sudo chown -R daemon:daemon /opt/bitnami/apps/prestashop/htdocs//var/cache