Compare different Bitnami and Automattic WordPress solutions
Which Bitnami and Automattic WordPress image best suits your needs?
WordPress Certified by Bitnami and Automattic listings on the AWS Marketplace
If you navigate to the AWS Marketplace and search for "Bitnami WordPress", you will find more than one WordPress image. Each image provides different features and benefits ranging from standard performance for small sites to the most complex multi-tier architecture for sites that demand high-availability and strong security.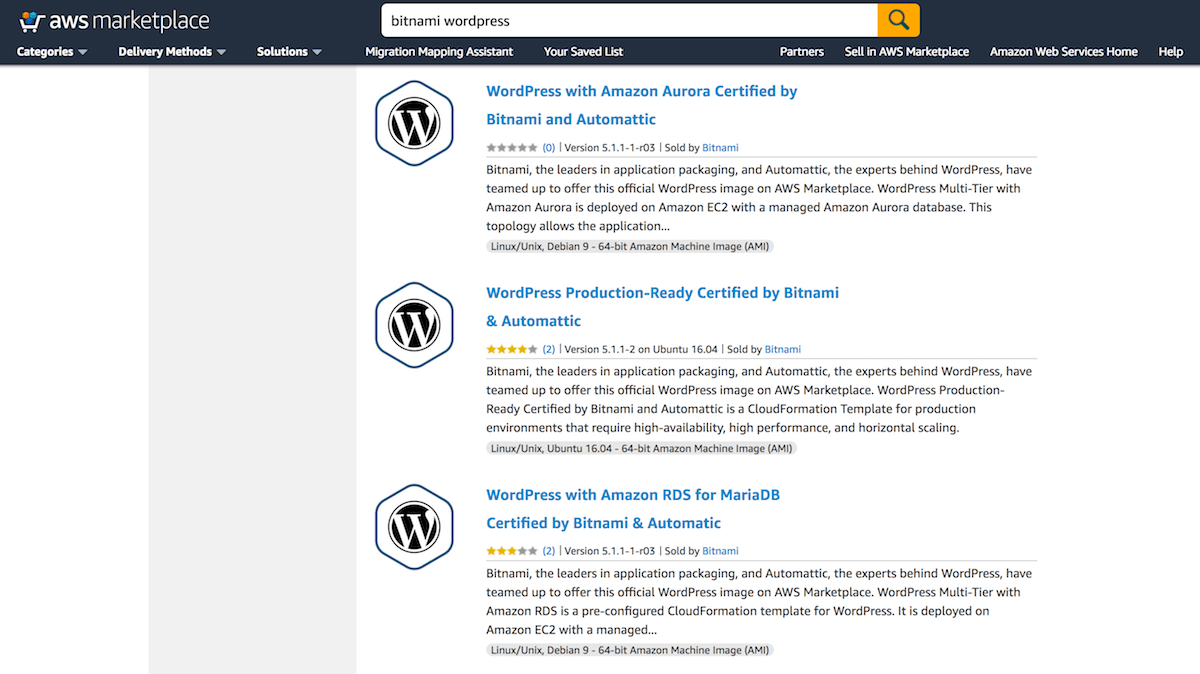 Choosing the right solution is essential to ensure that all your requirements are fully satisfied.
Bitnami has published the following in the AWS Marketplace:
Read on to learn what aspects to consider.
Benefits of deploying WordPress by Bitnami and Automattic
Whenever you launch any of the WordPress certified by Bitnami and Automattic images from the AWS Marketplace, you are running their most up-to-date and secure version. Bitnami provides the latest version of WordPress and its components, and includes every single security patch. Apart from these default characteristics, Bitnami WordPress now comes with the Jetpack plugin enabled, which is probably one of the most popular plugins among users. Sample benefits include:
Design features
Additional professional themes
Unlimited, high-speed image and video content delivery network
Better mobile experience: integration with the official WordPress mobile apps, faster image loading
Marketing and performance tools
Performance improvements thanks to Jetpack's site accelerator
SEO tools for Google, Bing, Twitter, Facebook, and WordPress.com
Elasticsearch-powered for content and site search
Paypal payment buttons
Security and backup services
Spam filters and downtime monitoring
Daily backups of your site
Site activity tracking
Malware and code scanning
Other plugins that are preinstalled by default are Akismet, All in One SEO Pack, and Amazon Polly.
If you are a developer, you may find it interesting to know that Bitnami and Automattic WordPress images bring you:
The possibility of auto-configuring a Let's Encrypt certificate for secure connections. HTTP/2 is also supported.
The latest versions of WordPress, PHP, Apache, and MariaDB
System caching functionality for improving site performance
The above features are included in all the WordPress images that Bitnami has published in the AWS Marketplace catalog. Hence, how to know which listing to choose?
What should you consider when selecting a Bitnami and Automattic WordPress image?
If you have selected WordPress for building a new website, or you already have a WordPress instance running on AWS - but your needs have changed - this checklist can be useful for you to choose the right image. Evaluate your requirements, pick the right Bitnami WordPress listing and launch it using your AWS account!
User profile
Are you a content author, a developer, or a system administrator?
If you want to run a personal blog or a small site as a content author, the best option is to launch WordPress Certified by Bitnami and Automattic.
As a developer, you can also benefit from this option, but you will probably be taking other requirements into account, such as web server performance or the number of sites you have to manage. In that case, both WordPress with NGINX and SSL Certified by Bitnami and Automattic and WordPress Multisite Certified by Bitnami and Automattic are excellent options, respectively. The only difference between them is that one uses NGINX as a web server while the other uses Apache.
From the perspective of a system administrator, scalability and security in the development and production environments are essential. In this case, chances are that WordPress Production-Ready Certified by Bitnami and Automattic will ultimately be your choice.
Number of sites
Are you part of an organization, university or large company that has different sites to manage? WordPress Multisite Certified by Bitnami and Automattic allows you to have multiple sites with different domains and layouts, but with a single central administrator. This way, you can get the benefit of having different sites that share plugins and themes, and are managed from the same user interface.
Managed services
Do you want to forget about database configuration, backup and maintenance?
WordPress Production-Ready Certified by Bitnami and Automattic works with the Amazon Aurora database. Database updates, backups and security patches are managed by AWS.
Performance
Does your website face thousand of connections each day? For high-demand sites with a huge number of connections, it is vital to make sure that your server is able to provide faster content without needing to consume a lot of resources. You will get the best performance with either WordPress Certified by Bitnami and Automattic or with WordPress with NGINX and SSL Certified by Bitnami and Automattic. Varnish (TM) is included by default as a system cache to boost your website's performance.
Scalability and failover
Do you need a website that scales to meet demand and is suitable for high-traffic production use? If the number of visits and connections on your site will dramatically increase during specific periods (for example, during a sales campaign) and your website needs to scale up (or down) quickly without downtime, WordPress Production-Ready Certified by Bitnami and Automattic is the right choice.
It works with Amazon Aurora as a managed database, which presents a 5x performance boost compared to a standard MySQL database.
Regarding scalability, Aurora storage automatically grows from 10 GB to 64 TiB: table size is only constrained if it reaches the maximum. It provides powerful and fast data replication across nodes and the failover is also automatic, ensuring no data loss even if a node is down.
In addition to these features, WordPress Production-Ready Certified by Bitnami and Automattic provides high-availability architecture with two availability zones and an Auto Scaling Group configured in each node to ensure dynamic, on-demand horizontal scaling.
It is also perfect for high-intensity environments that need an extra layer of security and higher requirements from the system. With this in mind, WordPress Production-Ready Certified by Bitnami and Automattic was designed with the following improvements:
High-Availability that spans two availability zones in the AWS regions, ensuring that your cluster can continue working if a node (or a whole AWS zone) goes down.
A replication model that allows workload distribution across multiple WordPress services.
An Elastic Load Balancer (ELB) to distribute HTTP and HTTPS requests across the WordPress instances, ensuring the maximum performance with a high number of connections.
A Virtual Private Cloud (VPC) with public and private subnets.
WordPress instances are isolated in private subnets. Inbound traffic is only allowed through Bastion hosts and outbound traffic is managed through a NAT Gateway.
Watch this video to see how easy it is to launch WordPress Production-Ready from the AWS Marketplace: