Configure Bitnami Blueprint parameters
Before publishing a blueprint on the catalog, administrators must set some parameters in the blueprint template. Most of the changes are related to the "application server" values. These changes should be performed in all the cases. Some others, point to the "application software" values and are only requested in those datacenters that neither have access to internet nor to the VMware marketplace.
Application server parameters
After the Bitnami Blueprint has been uploaded to the VMware vRealize Automation platform, administrators can configure the application server parameters in order to customize the template before publishing. These parameters can be set from the "Design -> Blueprints" section. Select the blueprint you want to configure and in the "Design Canvas" view, click the "Application_Server" tag: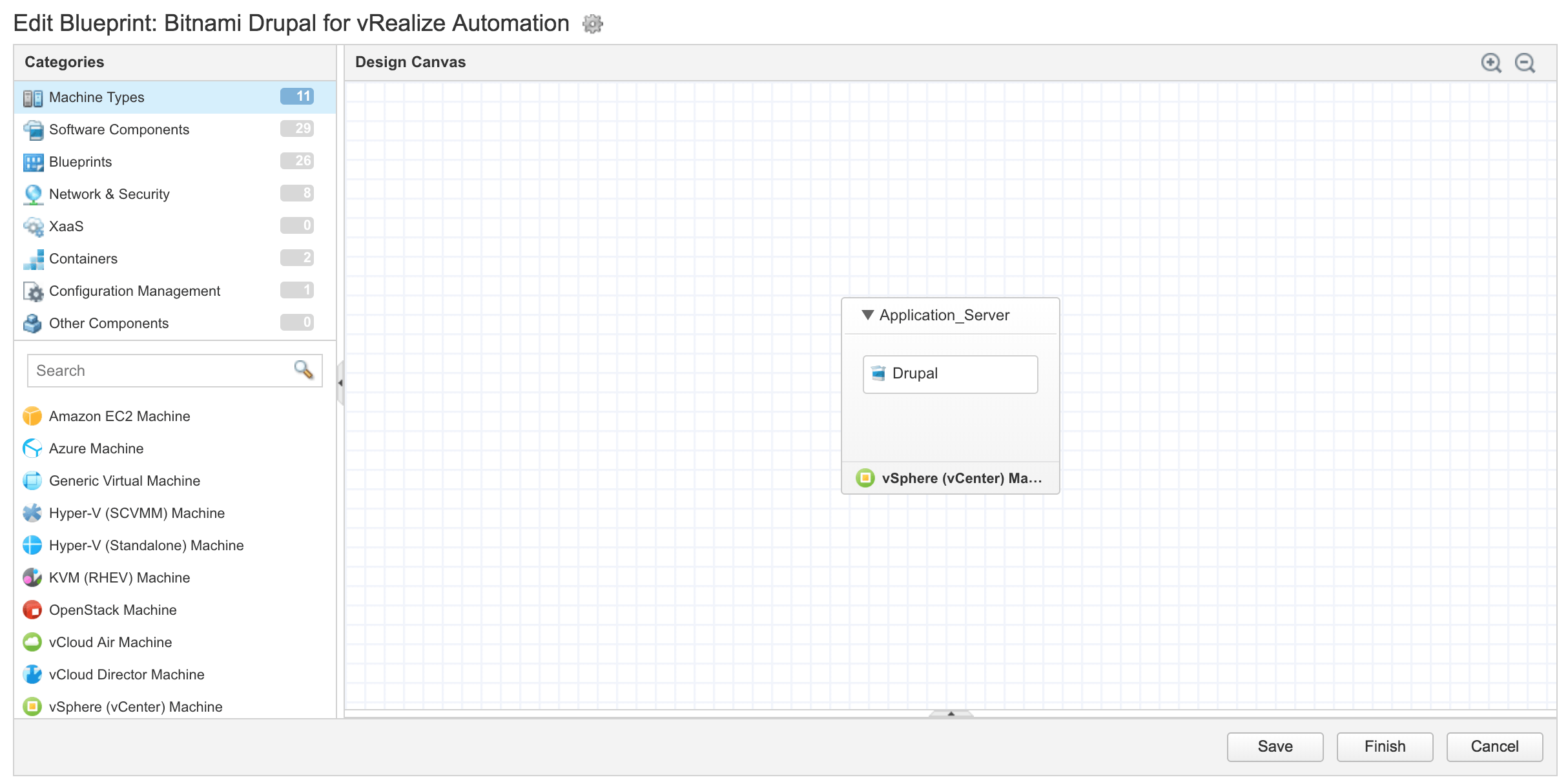 In the resulting screen you can navigate through different tabs in order to customize the blueprint template. There some parameters that you must configure before publishing the blueprint in the catalog. These are the following:
"Build Information" tab:

Clone from: Click the "[…]" button to see the list of available templates, and select one that corresponds to a CentOS 7.x template.
Customization spec: Specify the environment you want to set. In this example we have set it as "Linux-ENV6".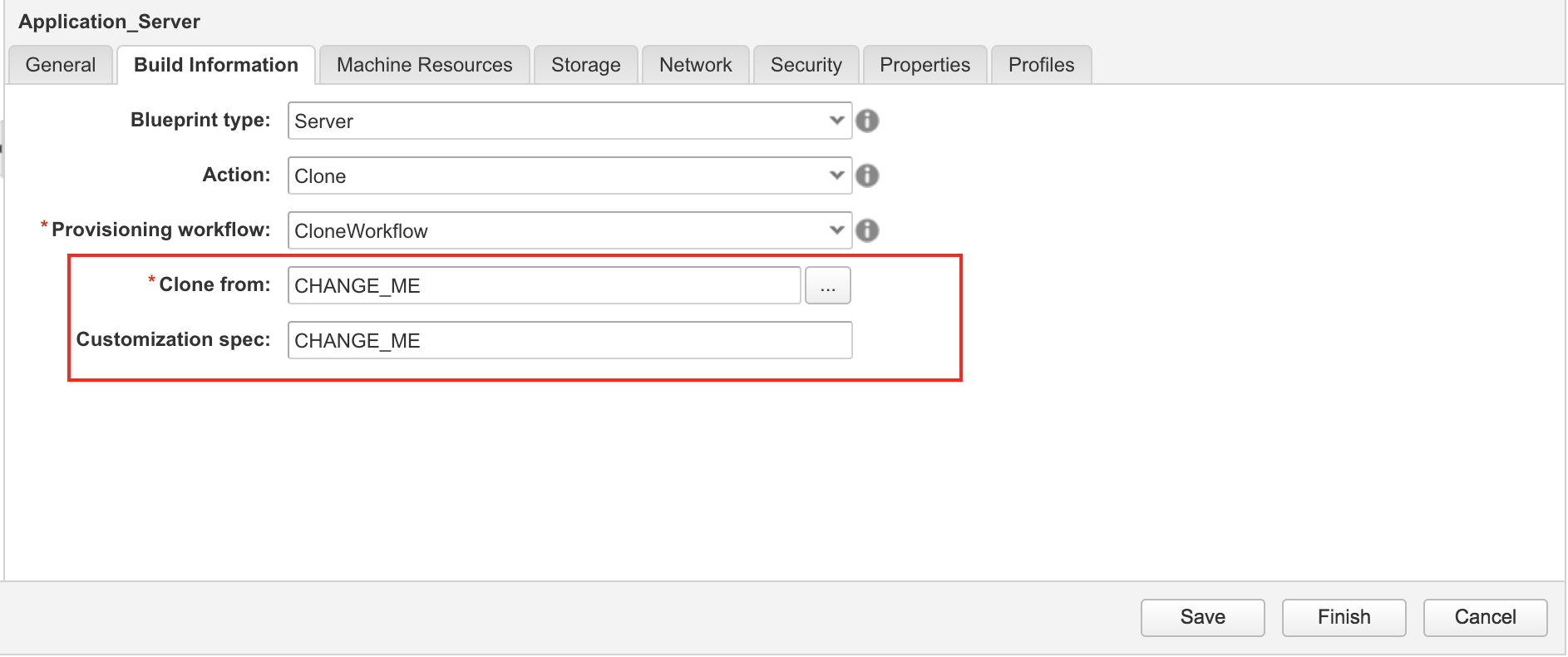 The values shown in the "Minimum" column must match with the minimum requirements detailed in the "General -> Description" section.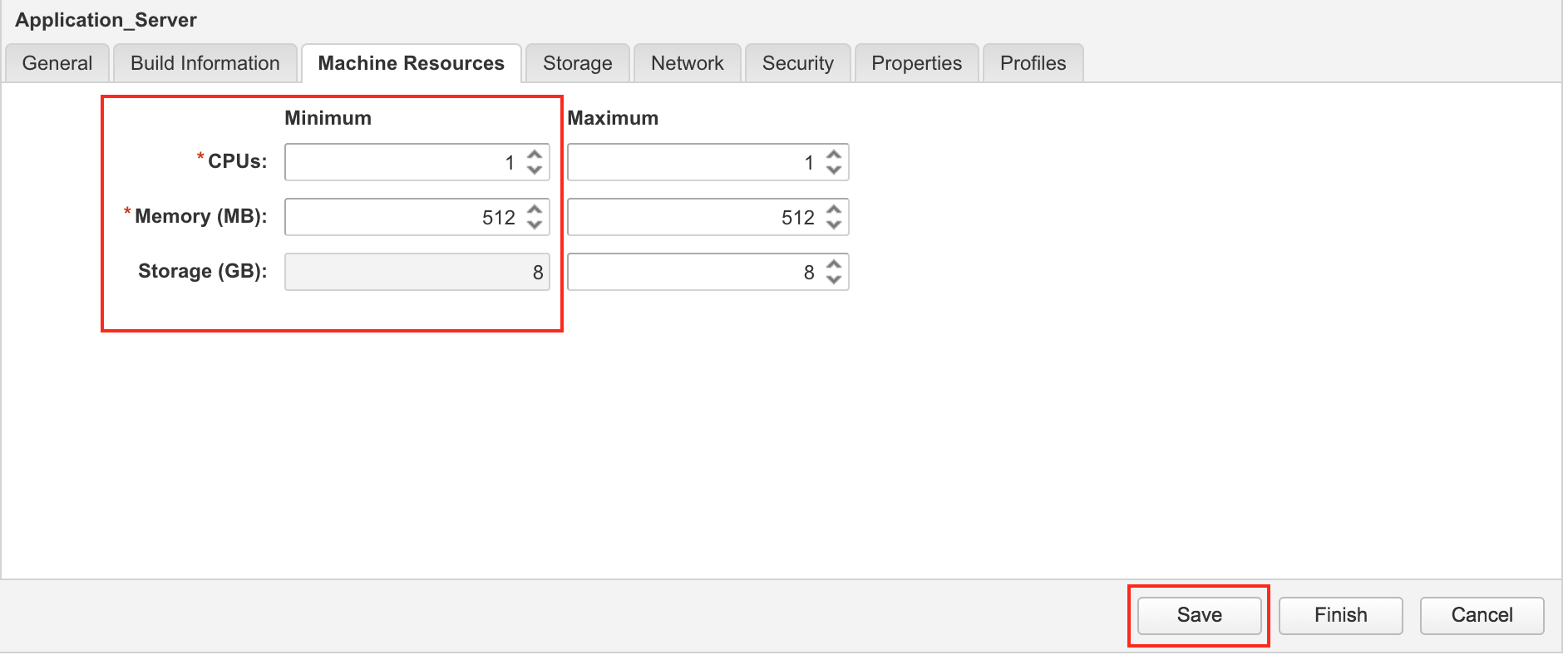 To check these requirements, see the "General -> Description" section as shown below: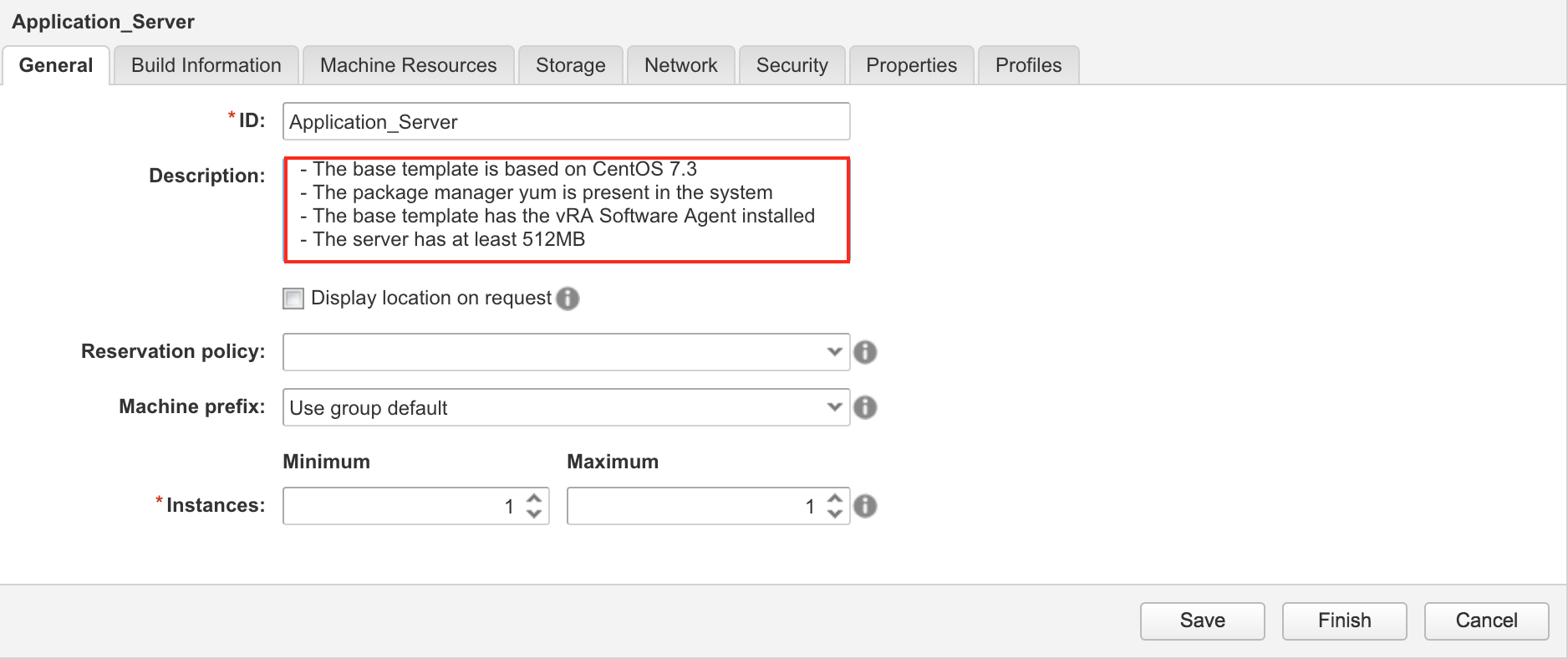 Application software parameters
NOTE: The configuration of the following parameters is optional. It is only required in case that the datacenter is not connected to internet or can't access the VMware marketplace server. Refer to the Known issues section for more information on this.
To configure the application software parameters, navigate to the "Design -> Blueprints" section and select the blueprint you want to configure for its publication. You will see the "Design Canvas" view. Follow these instructions to set the application software parameters:
On the upper-left side of the screen you will see a configuration icon. Click on it to see the Blueprint Properties. (The example below shows a Drupal Single-Tier blueprint).

Navigate to the "Properties -> Custom Properties" tab. You will find the following values:

BITNAMI_BUNDLE_URL: Indicates from where the Bitnami bundle should be downloaded from. The bundle contains scripts for the installation of essential services.

BITNAMI_INSTALLER_URL: Indicates where the application installer will be downloaded from.

OS_USERNAME (optional): Indicates the main username intended to access the instance. If present, it will ensure the given user will be made available and will have standard sudo access (for non-root users).

ACCESS_SSH_KEY (optional): Provides an SSH key to access as OS_USERNAME (if present). Both arguments need to be setup for SSH access.
To learn more about how to configure the Bitnami Blueprint template, check the first step of the Get started with Bitnami Blueprints on VMware VRealize Automation.